Wetsand Surf

Wetsand: A Bit of Menzel Background
Our family business has deep roots that span over two decades, marking a journey filled with innovation, creativity, and a passion for the surf culture. One of our most beloved times was the "Wetsand" era of our Menzel life!
Meet Chuck, the driving force behind our constant evolution. The concept of sitting still is alien to him, always brainstorming the next big project. The year 1998 witnessed the birth of Wetsand.com, a brainchild of Chuck Menzel. Initially conceived as an ocean weather forecasting and visualization system, it swiftly transformed into one of the largest surf websites, catering to the needs of over 30 thousand surfers daily.
Wetsand.com wasn't just about surf forecasting; it became a hub for surfing-related content, articles, imagery, and art, fostering a global community of contributors. Soon after, the Wetsand online store emerged, offering a unique take on surf culture. We embraced the rugged, old-school, and innovative aspects of surfing, grounding our philosophy in surf travel, creativity, experimentation, and a deep respect for the ocean.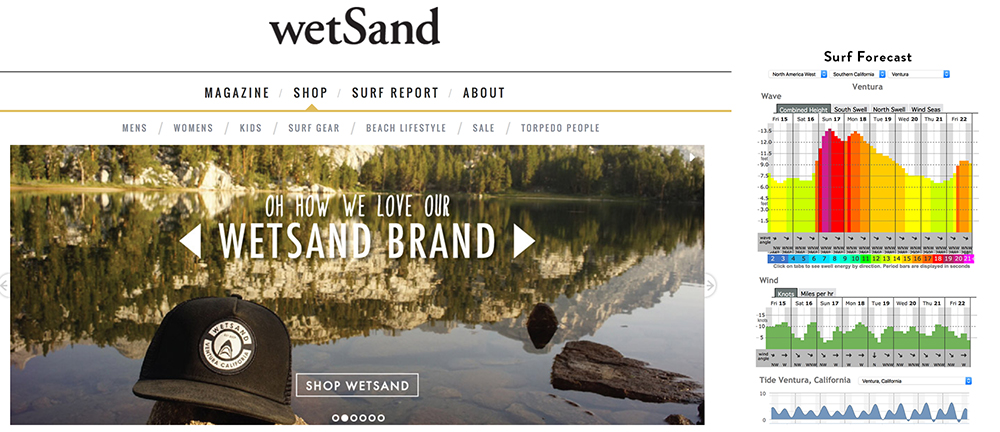 The online store flourished, featuring core surf gear such as board bags, leashes, wetsuits, surf books, and the now-rare Surf DVDs! Nine years of growth culminated in transitioning from a modest storage space to a 2,000-square-foot warehouse. The family decided to venture into the physical realm, opening a 3,000-square-foot brick-and-mortar store in Downtown Ventura in October 2007. Situated between LA and Santa Barbara, our surf town boasted a unique, rugged, sleepy vibe that set us apart from other coastal communities.
I liked to call Ventura "The biggest small town in California."
Guided by a passion for art, unique surf gear, home decor, fashion, and hand-crafted surfboards, our store showcased renowned shapes by Liddle, Andrein, Ryan Lovelace and Michel Junod. We didn't just sell products; we created an experience. We hosted demos, exhibited art, and curated a collection that spoke to the soul of surfing. I had the privilege of designing our exclusive Wetsand label, featuring clothing, accessories, surf gear, and even home decor. The Wetsand Private Label became our best-selling category, and if you still rock a pair of Wetsand sweats, consider them vintage! Our success story is indebted to the incredible support from surfers, photographers, and creatives. Built on the foundations of family and friends, our small business thrived by bringing what we deemed essential to surfing and the lifestyle we cherished.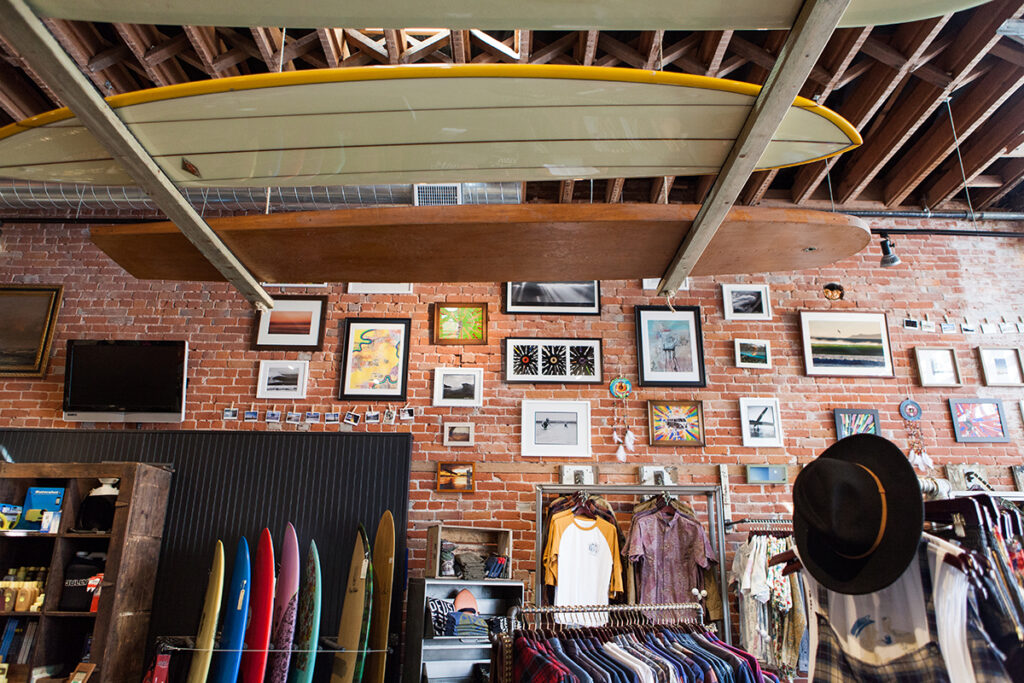 "You Are Never Too Old To Set Another Goal or To Dream a New Dream"
-C. S. Lewis
After more than a decade of steering and developing online surf forecasting, our family decided to sell the Wetsand forecasting system to GrindTV and Surfing Magazine. Despite this significant change, we continued to embrace our brick-and-mortar shop and our little online haven, wsurf.com.
In 2016, a new calling beckoned, and while the passion for what we did remained strong, an uncharted path called us away from retail. Strangely enough, we didn't have a clear roadmap; we just sensed it was time for something different. March 2017 marked the bittersweet moment when we closed our doors. It was a mix of sadness and sweetness, tears and joy, as we bid farewell to an era filled with unforgettable memories and cherished friendships. However, it also began a new journey, brimming with promise!
The year 2017 ushered in significant life events—babies, marriages, house moves—and planted the seeds for our next venture, The Menzel Group.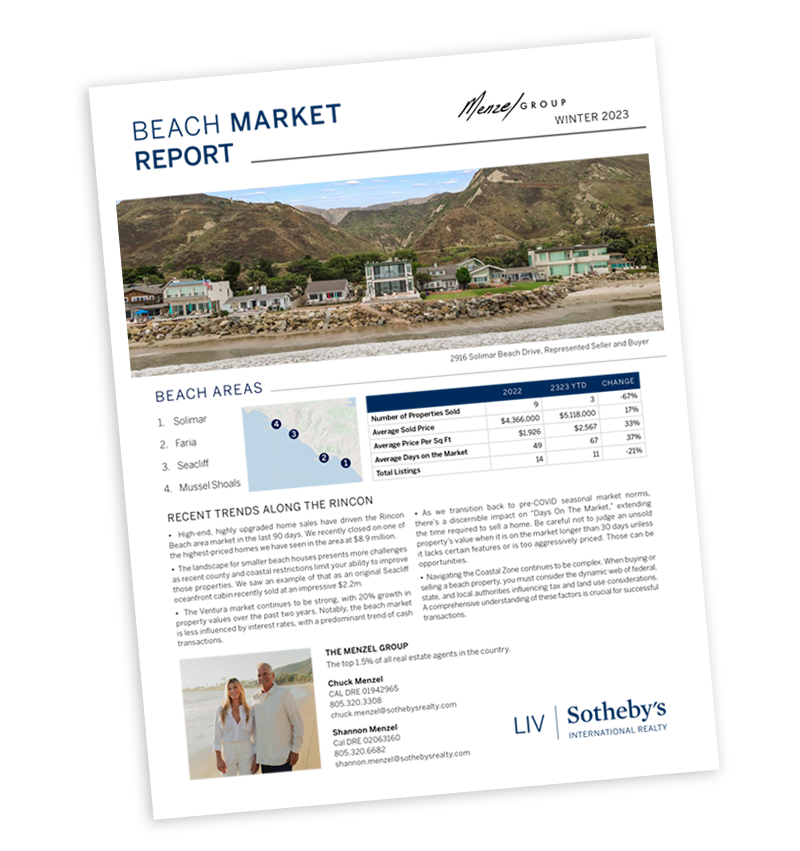 Chuck Menzel
DRE# 01943965
LIV Sotheby's International Realty
Shannon Kenny
DRE# 02063160
LIV Sotheby's International Realty
Testimonials
"Shannon helped sell my house in Ojai and then found the perfect new home for me. She was incredibly helpful and communicative throughout the entire process and the purchase went very quickly. Her local knowledge of Ventura County is invaluable and she even helped with local recommendations for the upgrades on my new home. I would highly recommend her to anyone thinking about buying or selling a home. " Sarah R.
"If you are buying or selling at the beach Chuck is the best agent to use. His knowledge of the beaches and each specific area is exactly what you need to find or sell your home. " John K.
"Chuck represented me in the sale of my high-end beach home and he was very professional. He followed through on details and was extremely helpful in dealing with the buyers request. I recommend him to other sellers. His firm's marketing materials took full advantage of the property location and home. " Kathy N.
"Our experience has been an amazing one. We met after our house burned down in the Thomas Fire. I called Chuck looking for housing and he found us the perfect rental. After living on Faria for two and a half years, we were hoping for a permanent solution. Chuck knew us well and found us a perfect opportunity to get us our forever home. He was amazing at navigating a difficult negotiation- on both sides and extremely thorough with researching the property. I highly recommend Chuck and feel very fortunate that we had him by our side through this process. " Noelle E.
"We had a great experience with Chuck. We've known him a long time and his knowledge of the area and real estate trends are as good as you can get. " Ron S.