Wetsand: A Lil' Bit of Menzel Background
Our roots run deep as a family business!
Our family has has been doing family business for over 20 years. One of our most beloved times was the "Wetsand" era of our Menzel life!

Chuck is always innovating, creating and thinking of his next project. His version of sitting still has nothing to do with sitting or being still. It all started in 1998 Wetsand.com was created by Chuck Menzel as an ocean weather forecasting and visualization system. It quickly grew to one of the largest surf websites that was used by over 30 thousand surfers a day. The website was not only surf forecasting, it was also a source of content. Wetsand.com was a worldwide community of contributors for surfing related content; articles, imagery and art. The Wetsand online store soon followed. Wetsand was different then a lot of the surf culture of the time. We gravitated toward the rugged, old-school and innovation side of surf culture. Wetsand presented surfing grounded in surf travel, creativity, experimentation and respecting the ocean experience.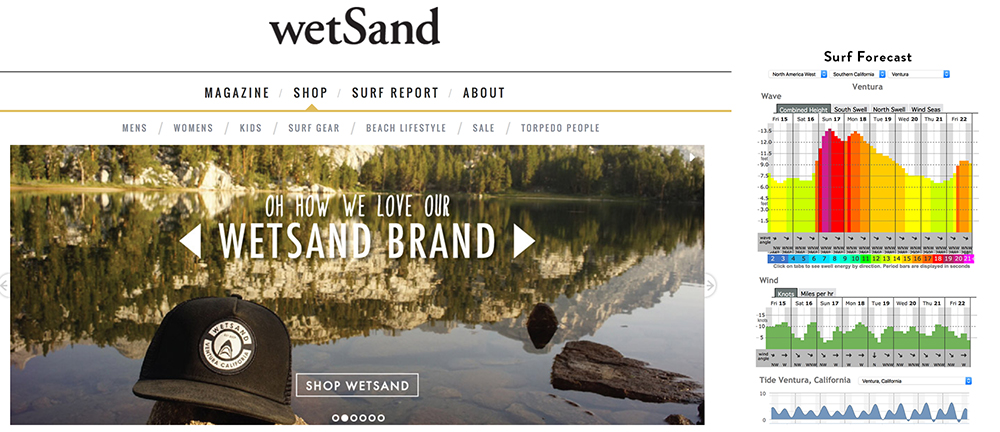 The online store was doing well. Selling core surf gear; boardbags, leashes, wetsuits, surf books and the now endangered species, Surf DVD's!
After 9 years of growing from a few storage shelves to a 2,000 square foot warehouse, the family decided to take a stab at a brick and mortar. The 2900 square foot brick and mortar store was opened in October 2007 in Downtown Ventura. Situated in between LA and Santa Barbara, our little surf town had a unique, rugged, sleepy vibe that set us apart from other beach towns.
I liked to call Ventura, "The biggest small town in California".
Inspired by art, unique surf gear, home decor, fashion and hand crafted surfboards. Our surfboard racks were lined with infamous shapes by Liddle, Andreini, Ryan Lovelace and Michel Junod surfboards. We demo'ed, we art showed, we created. I had the honor of designing our own Wetsand label, that included clothing, accessories, surf gear and even home decor. The Wetsand Private Label was our number one selling category! If you still own a pair of Wetsand sweats, let's consider it vintage! We had an amazing support system of surfers, photographers and creatives. Our small business was built on family and friends who work to bring what we felt important to surfing and the lifestyle around us.
"You Are Never Too Old To Set
Another Goal or To Dream a New Dream"
-C. S. Lewis
After over 10 years of developing and driving online surf forecasting, our family sold the Wetsand forecasting system to GrindTV and Surfing Magazine. We trudged forward still enjoying the brick and mortar shop and our own, now little, website, wsurf.com. In 2016 we felt yet another tug. The passion was still there but there was something guiding us out of retail. The funny part is, I'm not sure we even knew what the path was in front of us, we just knew it was time for something new. In March, 2017 we closed our doors. Sad and sweet, tears and joy. Moving forward with epic memories and amazing friendships with a bright path ahead!
Next step, The Menzel Group.
-Shannon Menzel Kenny