6 Miles north of Downtown Ventura, along the PCH lies Faria Beach Colony. Faria is 11 miles of community, divided by Mondos Cove, aka"The Cove" a sandy, crescent beach famous for its gentle and consistent waves.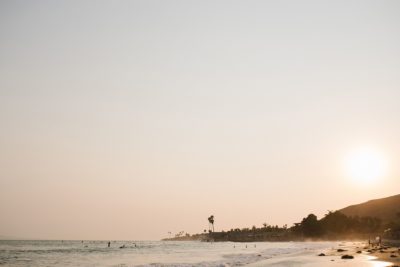 Faria Beach Colony
A community with a great local vibe where everyone knows their neighbors and takes pride in the community.
One of the most renowned surfing spots is right in front with beach access by two private and secure gates. Community features include a tennis court, shared lawn area and kids play structure. To ensure the enjoyment of ocean views from the second stories of the non-beachfront homes within Faria, the oceanside homes are restricted to a single story with a 12' height limitation. 
Beaches
Faria Beach Colony offers various beach options that shift and change weekly based on the moon and tide phases.
Mondos Cove is a sandy beach located in lower Faria in between the first and second house groupings, offering a year-round dry and inviting space. It's a popular destination for beachgoers seeking a picturesque and serene environment. During the winter, Mondos Cove experiences a transformation, becoming more of a wet beach.
As you venture towards the point, the beach's character may change, influenced by the natural ebb and flow of sand and tides. The beach tends to get rocky, and toward the top of Faria, you can find great tide pools, rocky beach, and sand clusters mixed in.
Surf
A little history
In the early 1900's a cattle rancher named Manual Faria owned the land from the sea to the mountains, "Los Pitos". It was here that the Faria community was founded and named after. Manual Faria would allow his fellow ranch owners in and around Ventura County to use his beach land to camp in the summers back in the early part of the 1900s. They eventually were able to lease, and then own their parcels.
Through the 1920's the local farming families spent the Summers camping in the area. In the 1930's Manual leased Summer cabins to the farming families. In the 1980's these same families were able to purchase their homes, many of which are still owned by the same families today!
Facts & Figures
Lower Faria- 81 beachfront / 40' of ocean frontage
Upper Faria- 30 beachfront / 18 "one back"
The community is approximately 1.25 miles in length