This tiny slice of heaven on earth.
Set in a valley in the Topatopa Mountains, Ojai is a perfect combination of a small town set in the mountains, only miles from the Pacific Ocean.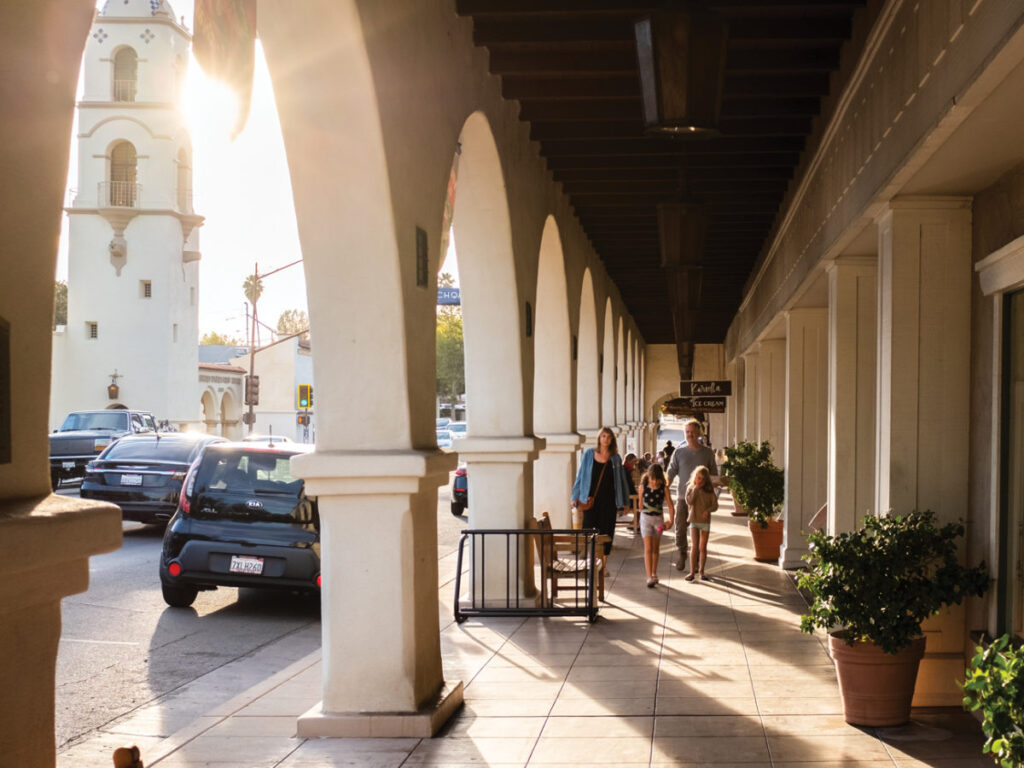 Ojai, California
Ojai has the allure, nature focus, and style that creates an allylic lifestyle we all strive to live. Bordering the north, Los Padres National Forest is crisscrossed with meandering trails. The great outdoors, with views and options on options of outdoor activities. You will find great hiking, horseback riding, spiritual retreats, and a farmers' market on Thursdays and Sundays with local organic favorites.
It also has many small businesses specializing in local and ecologically friendly art, design, and home improvement—such as galleries and a solar power company. Chain stores (other than a few gas stations) are prohibited by Ojai City law to encourage local small business development and keep the town unique.
History
Chumash Indians were the early inhabitants of the valley. They called it Ojai, which derives from the Ventureño Chumash word 'awhaý meaning "moon". The area became part of the Rancho Ojai Mexican land grant made to Fernando Tico in 1837, and he established a cattle ranch. Tico sold it in 1853 without much success to prospectors searching for oil. By 1864, the area was settled.
The town was laid out in 1874 by real estate developer R.G. Surdam and named Nordhoff, California, in honor of the writer Charles Nordhoff. Leading up to and during World War I, American sentiment became increasingly anti-German. Across the United States, German and German-sounding place names were changed. As part of this trend, Nordhoff was renamed Ojai in 1917.
The main turning point in the development of the city was the coming of Edward Libbey, early owner of the Libbey Glass Company. He saw the valley and fell in love, thinking up many plans for expansion and beautification of the existing rustic town. A fire destroyed much of the original western-style downtown Nordhoff/Ojai in 1917. Afterward, Libbey helped design, finance, and build a new downtown more in line with the then-contemporary taste for Spanish Colonial Revival style architecture. The projects included a Spanish-style arcade along the main street, a bell tower reminiscent of the famous campanile of the Basilica Menor de San Francisco de Asis in Havana, and a pergola opposite the arcade.
To thank Libbey for his gifts to the town, the citizens proposed a celebration to take place on March 2 of each year. Libbey declined their offer to call it "Libbey Day", and instead suggested "Ojai Day". The celebration still takes place each year in October. The arcade and bell tower still stand and have come to serve as symbols of the city and the surrounding valley.
Climate
The climate of Ojai is Mediterranean, characterized by hot, dry summers, at times exceeding 100 °F and mild, rainy winters, with lows at night falling below freezing at times. During dry spells with continental air, morning temperatures, due to Ojai's valley location, can drop well below most of Southern California, with the record being 13 °F (−10.6 °C) on January 6–7, 1913.
Ojai is far enough from the sea to minimize marine cooling, and very hot days can occur during summer, with the record being 119 °F (48.3 °C) on June 16, 1917 – when it fell as low as 65 °F (18.3 °C) in the morning due to clear skies and dry air.
Education
Public schools
Ojai Unified School District
Legacy High School
Nordhoff Junior High & High School
Matilija Junior High School
Meiners Oaks Elementary School
Mira Monte Elementary School
Summit Elementary School
Topa Topa Elementary School
Private schools
Besant Hill School of Happy Valley (formerly Happy Valley School)
Weil Tennis Academy
Monica Ros School – preschool through 3rd grade
Montessori School of Ojai
Laurel Springs School – Specializes in distance education and home-schooling
Rock Tree Sky – A self-directed learning community in upper Ojai
Global Village School – Aprogressive K–12 homeschooling program
Valley Oak Charter School – public charter, homeschooling hybrid
Camp Ramah in California is in the hills of Ojai.
Libraries
Ojai Library
Oak View Library
Meiners Oaks Library
Transportation
The City of Ojai operates the Ojai Trolley bus system. Ojai Trolley operates daily, except on major holidays! General Fare is $1.50 for a single ride and $4.Otto for a day pass. The Trolley currently provides 1-hour frequency trolleys. Click here to view the routes!
The public bus also services Ojai with Gold Coast Transit, which connects Ojai with Ventura.
Neighborhoods
Ojai Village (Downtown)
Rancho Matilija
Saddle Mountain Estates
Persimmon Hill
East End
Upper Ojai
The Arbolada
Meiners Oaks
Mira Monte
Oak View
Casitas Springs
Facts & Figures
Population 7,637